Tales From Netflix are DVD reviews, where I tell you where you should put a disc in your Netflix rental queue - placing it at the top, burying it at the bottom, or not even bothering in the first place.
THE AMITYVILLE HORROR
It wasn't bad, but otherwise just generally watchable, with typical horror film trickery. That's about it...
Maybe rates a bottom QUEUE selection.
MINDHUNTERS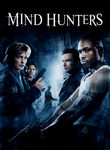 Val Kilmer puts his FBI trainees through hell, and then, surprise surprise, they really get in a pickle...
Not bad, it keeps you watching, and guessing, I guess...
SPOILER WARNING:
And hey, it does get points for a really wicked offing of Christian Slater!!
A good mid QUEUE movie.
ROBOTS
Better than most CG cartoons, but not among the best.
It is a fun, entertaining watch, and pretty solid throughout.
You could put worse movies at the top of your QUEUE