Tales From Netflix are DVD reviews, where I tell you where you should put a disc in your Netflix rental queue - placing it at the top, burying it at the bottom, or not even bothering in the first place.
11:14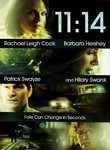 This is an ensemble cast indy film that weaves several plotlines around each other, all of them keying on 11:14 of the same evening. Similar I guess to CRASH, but instead of racially charged emotional tales that collide, we have some slapstick shenanigans all coming together to weave a truly twisted tale (to say the least).
Put 11:14 at the TOP of your QUEUE
HOUSE OF WAX
This one starts off well enough, taking a setup we've all seen a million times, and making it interesting (the kids in the woods, yadda yadda). However by the final act things wear so thin, and get so over the top cheesy-bad for the climax, it virtually cashes in any stock it built at the beginning.
Put this one at the BOTTOM of your QUEUE
KINGDOM OF HEAVEN
I liked this movie, and wanted to like it more, but in the end, it's just well done, but otherwise forgettable. It does have it's moments, but that's about all.
Put KOH in the MIDDLE of your QUEUE
RETURN OF THE LIVING DEAD 2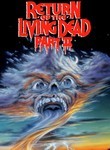 I caught the first RETURN on cable a few months back, and it was great. A cool, funny, fast paced, and rewarding send-up of the zombie genre. The 1988 sequel shares the same plot, but none of the charm of the original. It's okay at best (perhaps better, if you haven't seen the original)...
I'd put ROTLD2 at the BOTTOM of QUEUE if you're a zombie fan, or looking for some 80's style camp.
THE SALTON SEA
Val Kilmer
stars as a methed-out informant for the man, in a twisted little tale full of crazy characters, and a fun cast. It's not flawless, it does rely on some lame plot points to get from point A to B, but it is one of the better Kilmer films in recent years, and has some great performances from
Peter Sarsgaard
and
Vincent D'Onofrio
as the wild and noseless "Pooh-Bear"!
Put THE SALTON SEA at the TOP of your QUEUE
UNLEASHED
Hey look, it's Jet Li doing his best E.T. performance.
This movie is only cool, or unique, when it's wallowing in the world of the dog fighter enforcer/gladiator. The rest of the time it's a crazy cliched "kid keeps a stray" story, that sees Jet Li reprise Steven Speilberg's telescoping-necked-alien role, and a twenty-something actress play an 18 year old that acts like a 10 year old. It's odd.
Put UNLEASHED at the BOTTOM of your QUEUE