Tales From Netflix used to be my regular posting with quick reviews for all the DVD's we watch, now though, I think I'll change it to simply highlight discs that are off the beaten path and well worth the effort...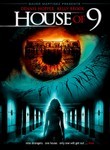 This time we have
HOUSE OF 9
House of 9 is perfect for anyone who's enjoyed the SAW or CUBE movies, with a similar premise, pitting 9 strangers against each other in a controled environment. It's been done before, and with Saw it was ultra violent, with gory traps, and in Cube it was a sci-fi puzzler, but this time it's a band of Brits who simply unravel on each other. Character driven and well acted, Ho9 is also very well directed, with great cinematography, music, and a simple but attractive set (like the similar Cube movies).
And hey, how can a movie with a setup where 9 strangers come together, get filmed, with the survivor to win 5 million dollars, not appeal to me?
Oh yeah, and Dennis Hopper is featured as well.
(And if you read this and wondered what the CUBE movies were, do yourself a favor and rent one post haste!)
HIGHLY RECOMMENDEDQUICK HITS:MATADOR
-
HIGHLY RECOMMENDED
: Pierce is brilliant!
ULTRAVIOLET
-
MILDLY RECOMMENDED
: Only for the visuals.
SYRIANA
-
RECOMMENDED
: Solid stuff all around (but complex).
SARAH SILVERMAN: JESUS IS MAGIC
-
MILDLY RECOMMENDED
: Has some really funny moments, but is otherwise okay.
KISS KISS BANG BANG
-
HIGHLY RECOMMENDED
: Great cast, great plot, great movie!!