Lupin the III: The Castle of Cagliostro
Released by: Manga Video
Available: 8/29/06
Length: 102 minutes
Rating: Not Rated
Website: manga.com
Well folks, time for another new release from Manga Video, and another classic anime gets the DVD treatment. The latest to make the Manga catalog? Another high pedigree offering, this time from 1979,
Lupin the III: The Castle of Cagliostro
, directed by none other than
Hayao Miyazaki
... yes, that Miyazaki, Academy Award winner Miyazaki. Only this is a feature he made before creating the now world renowned
Studio Ghibli
and landmark animations like
Princess Mononoke
,
Spirited Away
and many others! Lupin the III is a long running and popular manga and anime, but to my surprise, it was also the subject of Miyazaki's first feature-length animated film!
With Cagliostro being over 25 years old, and an early work by Miazaki, the first questions I had before watching were, how good is the animation, and was Miazaki always at the top of his game? Would this Lupin feature leave me feeling less than impressed, something no Miazaki film has ever come even close to doing? Well, as soon as you press play, any doubts are washed away... Cagliostro is indeed an impressive work of animation, impressive movie, and a sure sign of things to come from one of the medium's masters. All of Miazaki's hallmark touches are found in spades, the crisp character designs, full of emotion, the sweeping scope of the landscapes, the artistic true-to-life details that send everything to another level. Cagliostro is charming and vibrant, and also, surprisingly timeless for a film created at the end of the trendy era that was the 70's. Sure some outfits and hairstyles are indicative of the time, but Miazaki grounds everything in classic styles and designs, from the cars to the enchanting castle set pieces.
Several scenes make great use of the titular castle, having it become as much a character as any of the "actors" in the film. And all this in a time before computers assisted with anything and everything of that nature.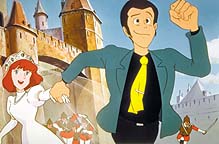 Although the visuals are in the capable hands of Miazaki, he's no slouch in the story department either, and he takes part in adapting the story from the Monkey Punch originals, making the movie feel as much his as it is part of the Lupin cannon. Cagliostro is a great movie. It's not just moving to watch, it has a fun, and intricate story, with many scenes throughout that showcase action and wit, all in keeping with our hero, master thief Lupin III. Lupin is as smooth as they come, with a knack for the ladies, and getting out of just about any situation. He's got the gadgets, friends, and even enemies, to help whenever things look out of hand. No spot is to tight for Lupin, literally.
As for the offerings on the DVD, the main attraction here is the quality of the film remastering coupled with the 16x9 full widescreen picture, both a huge plus for a film with this pedigree in visuals. Otherwise the attractions are fairly light, with some productions stills, and an interview of the animation director, except for a full presentation of the original Hayao Miyazaki storyboards, complete with soundtrack. And while the disc is not rated, there's only some mild language, so it would be most likely a PG-13 rating.
Overall
Lupin the III's Castle of Cagliostro
is an impressive addition to any anime fans library, a true anime classic. Cagliostro is also a must watch for just about anyone else, filled with action, humor, car chases, and duels, Lupin is a down right good time, but it's also filled with heart and style, a unique balance not many films acheive, but something all of Hayao Mizaki's efforts exhude. So whether you love anime, Miyazaki, Lupin, or great films, Cagliostro's got you covered!
HIGHLY RECOMMENDED, a great blend of Miazaki's trademark production, with a fun franchise!