THE PLACE PROMISED IN OUR EARLY DAYS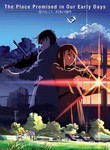 The Place Promised In Our Early Days
is the full-length, original, anime movie follow-up to the critically hailed 30 minute short feature,
Voices of a Distant Star
, from director
Makoto Shinkai
. Voices was a haunting, deeply emotional sci-fi story centered around the connection of a young couple separated by space and time, that made everyone who saw it, long for more from this emerging talent. Place Promised is the answer to that.
As the film gets underway, it's almost derivative of the previous short, in-so-much that it relies heavily on exquisite mood and setting from perfectly framed skyscapes and background detail and sound. Scenes are more a work of art, paintings brought to life, than perhaps most other anime/animation. The story also feels familiar to
Voices
in that it's centered on three youngsters this time, their inter-personal connections, and a vague sci-fi backdrop. From there though, Place Promised tells it's own tale, and very much succeeds at it.
The plot however is dense and a bit hard to follow at times. Adding to that, the character designs make it a challenge to differentiate who's who from scene to scene, but things piece together as you go along. Those things aside, Place Promised is a thought provoking and often-times beautiful work of animation that is somewhat mature in it's aim, not through violence, sex or language, but in it's pacing or appeal. That is to say, watch it for a strong film, not a flashy anime.
For more information on this excellent anime, visit the
ADV
website
HERE
or the Japanese site
HERE